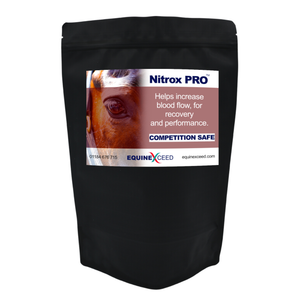 Product Info
Nitrox PRO™ is formulated to improve blood flow.
Key ingredient L-arginine helps dilate compromised blood vessels that are restricting blood flow. Decreased blood flow to the laminae tissue can cause the tissue to swell and elongate, resulting in swelling and discomfort. A healthy blood flow is key to managing hoof related challenges related to metabolic conditions.
Composition:
L-Arginine, Cinnamon, Choline Bitartrate, Vitamin E, Horse Chestnut, Vitamin C, Boswellia, Turmeric, Ginseng, N-Acetyl-L-Cysteine, L-Glutamic Acid,  Echinacea, Ginger, Citrus Bioflavonoid, Manganese, Vitamin B1, Vitamin B2, Vitamin B3, Vitamin B5, Vitamin B6, Zinc Sulphate, Vitamin B12, Himalayan Salt, Biotin.
Analytical Constituents:
Oil 6.2%, Sugar 4.73 %, Starch 7.4%,  Fibre 7.6%, Protein 68.1%, Sodium 0.12%, Ash 2.5%
Competition safe and suitable for long term use.  Conforms with FEI Prohibited Substances List.
Reduce plastic waste: As a company we are striving to reduce plastic waste.
Choosing Eco Bags as your packaging offers a solution to this in the form of recyclable bags.
STORE IN A COOL DRY PLACE IN AN AIRTIGHT CONTAINER
Feeding Guidelines
Maintenance
Under 500kg           ¾ - 1 scoop per day 
500 Kg – 600 kg      1 ½ - 1 ¾  scoop per day 
600kg +                   2 scoops per day 
First 3 - 5 days feed twice daily
How much do I need for a month's supply?
Under 500kg – 30 scoops
500kg– 550kg – 45 scoops (30 + 15 scoop)
550kg+ - 60 scoops
Mix with feed
1 serving = 18g 
We are happy to advise you on the best way to use them, based on what you want to achieve from this product.