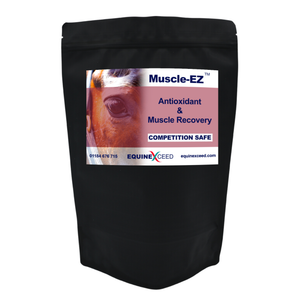 Product Info
Muscle-EZ™ is formulated using essential amino acids including L-Methionine, L-Valine & L-Carnitine, ideal for when extra support is required for Muscle Recovery. L-Carnitine can help to delay fatigue by reducing Lactic Acid formation while the Antioxidant properties of milk thistle work towards providing detoxification function and metabolic health.
Composition:
Soya Flour, L-Arginine, Flax Seed, L-Alanine, L-Valine, L-Proline, L-Ornithine, Spirulina, Liquorice Root, Choline Bitartrate, Vitamin, D3, Papaya, Milk Thistle, Ginkgo, Citrus Bioflavanoid, Cinnamon, Vitamin C, Cordyceps, L-Methionine, Ginger Root, Vitamin E,
Turmeric, Ginseng, Iron Ferrous Fumerate, L-Carnitine, NAceytl-L-Cysteine, L-Tyrosine, Himalayan Salt, Zinc Sulphate, Manganese Gluconate, Vitamin A, B12, B3, B5, B6, L-Glutamic Acid, Biotin.
Analytical Constituents:
Oil 22.68%, Sugar 6.90%, Starch 3.60%,  Fibre 3.30%, Protein 66.50%, Sodium 0.11%, Ash 4.00%
Competition safe and suitable for long term use.  Conforms with FEI Prohibited Substances List.
STORE IN A COOL DRY PLACE IN AN AIRTIGHT CONTAINER
Feeding Guidelines
Maintenance
Under 500kg           1 scoop per day 
500 Kg – 600 kg     2  scoops per day 
600kg +                   2 - 3 scoops per day 
 First 3 - 5 days feed twice daily
How much do I need for a month's supply?
Under 500kg – 30 scoops
500kg– 550kg – 45 scoops (30 + 15 scoop)
550kg+ - 60 scoops
 Mix with feed
1 serving = 18g 
We are happy to advise you on the best way to use them, based on what you want to achieve from this product.
Need a Larger Quantity?  
240 scoops, 480 scoops & 600 scoops are still available. Contact us on 01184 676715 or email us on sales@equinexceed.com to place an order.