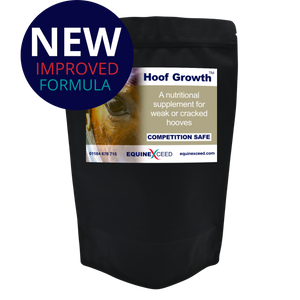 Product Info
*NEW IMPROVED FORMULA*
Hoof Growth™ is high in Biotin which is required in the horse's diet for the production of keratin – the main protein that forms a strong, durable hoof structure.
L-Methionine, Threonine and L-Lysine are known as rate-limiting amino acids that are required in the horse's diet because they cannot be made in the body. Hoof Growth™ contains all 3 of these amino acids and helps restore health and strength of the hoof wall.
Also contains Vitamin C, an important nutrient required to maintain the integrity of the hoof wall by promoting a strong, healthy network of collagen fibres.
A 30 scoop tub gives you approximately one month's supply for 500kg horse. 
Competition safe. Conforms with FEI Prohibited Substances List.
Composition: Biotin, Choline Bitartrate, Calcium Citrate, L-Lysine, L-Threonine, Zinc, Methionine, Citrus Bioflavanoids, Vitamin C, L-Arginine, B3, Himalayan Salt.
Analytical Constituents: Oil <0.6%, Sugar 10.33%, Starch 4.5%,  Fibre <0.1%, Protein 31%, Sodium 0.07%, Ash 21.4%
Reduce plastic waste: As a company we are striving to reduce plastic waste.
Choosing Eco Bags as your packaging offers a solution to this in the form of recyclable bags.
Feeding Guidelines
Maintenance
Under 500kg           3/4 scoop per day 
500 Kg – 600 kg     1 scoop per day 
600kg +                   2 scoops per day 
First 3 - 5 days feed twice daily
How much do I need for a month's supply?
Under 500kg – 30 scoops
500kg– 550kg – 45 scoops (30 + 15 scoop)
550kg+ - 60 scoops
Mix with feed
1 serving = 18g 
We are happy to advise you on the best way to use them, based on what you want to achieve from this product.
Need a Larger Quantity?  
240 scoops, 480 scoops & 600 scoops are still available. Contact us on 01184 676715 or email us on sales@equinexceed.com to place an order.