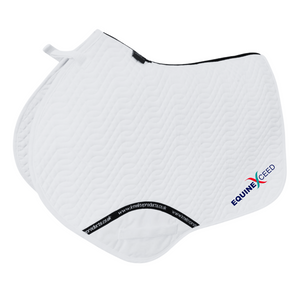 The Horse & Rider Range is excluded from promotions
Product Info
Size: Large (FULL)
This KM Elite Close Contact pad has been specially designed and shaped to fit forward cut saddles, it has a high wither cut to further improve the fit and reduce movement.
Made from KM Elite's superior quilted fabric.  Velcro girth fastening & D-Ring Velcro attachments for easy fitting.
Embroidered with our striking Equine Exceed logo this saddlecloth will certainly make you stand out in the collecting ring!
Equine Exceed is a registered BE Company Supporter. Our logo meets current logo sizing guidelines and has been approved by BE and is able to be used in all BE, BD and British showjumping competitions. 
Part of the KM ELITE Distinction range.
Information and Care:
Remove hair, dirt and dried sweat with a stiff brush.
Machine wash at 30° on a cool/wool cycle or hand wash.
Use non-bio powder or liquid.
Straighten/flatten cotton fabric after washing.
Air dry near heat source. Never tumble dry.
Avoid using strong fabric conditioners.