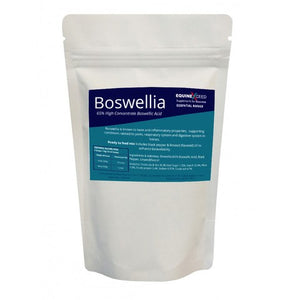 Product Info

High concentrate of 65% Boswellic Acid. 

Boswellia is known to have anti-inflammatory properties, supporting conditions related to joints, respiratory system and digestive system in horses.
Ready to feed mix includes Black Pepper and Linseed (flaxseed) Oil to enhance bioavailability. 
Ingredients & Additives: Boswellia (65% Boswellic Acid), Black Pepper, Linseed (flax) Oil
Analytics: Crude oils & fats 36.38%, total Sugar 1.75%, Starch 50.9%, Fibre 1.6%, Crude protein 2.4%, Sodium 0.01%, Crude ash 4.7%
Boswellia is a complementary feeding stuff for horses.
STORE IN A COOL DRY PLACE IN AN AIRTIGHT CONTAINER
Feeding Guidelines
Maintenance
Under 500kg          2/3 scoop per day
Over 500 Kg           1 scoop per day 
1 scoop = 10g (15ml scoop)